When:
April 18, 2015 @ 10:00 am
2015-04-18T10:00:00+01:00
2015-04-18T10:30:00+01:00
Where:
Mourne Grange, Kilkeel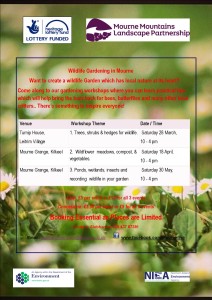 Wildlife Gardening in Mourne
Want to create a wildlife garden which has local nature at its heart? Come along to our gardening workshops where you can learn practical tips which will help bring the buzz back for bees, butterflies and many other local critters…There's something for everyone!
Mourne Grange, Kilkeel
-Wildflower meadows, compost and Vegetables workshop on
Saturday 18th April, 10-4pm.
-Ponds, wetlands, insects and recording wildlife in your garden workshop on Saturday 30th May, 10-4pm.
Cost: £5 per event
Consession: £3.50 per event
Booking essential as places are limited
Facebook: www.facebook.com/Mournelive