When:
November 19, 2014 @ 7:00 pm
2014-11-19T19:00:00+00:00
2014-11-19T19:30:00+00:00
Where:
The Nautilus Centre
Rooney Road, Kilkeel, Newry, Newry and Mourne BT34 4AG
UK

Contact:
Newry Maritime Association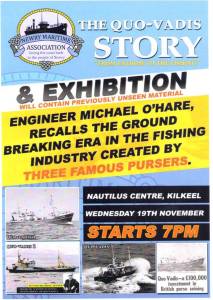 The Quo-Vadis Story "From Fathom to the Fishing" & Exhibition will contain previously unseen material
ENGINEER MICHAEL O'HARE, RECALLS THE GROUND BREAKING ERA IN THE FISHING INDUSTRY CREATED BY THREE FAMOUS PURSERS.
The Quo-Vadis vessels were ground-breaking fishing boats, and for years afterwards they would break all sorts of records for landings in the UK and on the Continent.
The townland of Fathom in County Armagh lies immediately South of Newry fronting the Newry Ship Canal for over 2 miles, an area synonymous with sailors and the sea.
Whilst this legendary centre of men are closely identified with all aspects of merchant shipping only one man, Michael O'Hare, is identified with commercial fishing.
Having commenced his fishing career aged 15 in 1963 Michael aligned himself with the McAlinden family in Kilkeel in 1966. He was to forge a successful career as engineer on all 3 pursuers bearing the famed name… "Quo-Vadis".
Like on Facebook: Newry-Maritime-Association