When:
June 26, 2014 – June 29, 2014
all-day
2014-06-26T23:00:00+00:00
2014-06-29T23:00:00+00:00
Where:
Mourne Golf Club, Golf Links Road, Newcastle

Contact:
Recreation Department, Down District Council
(028) 4461 0800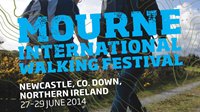 Set within the spectacular scenery of the Mourne Area of Outstanding Natural Beauty there are walks to suit all levels of fitness and ability with lowland routes at 10, 20, 30 and 40kms as well as high level routes within the mountains. The highlight of the festival is the Blister Ball on Saturday evening which includes food, music and dancing. All welcome.
Visit: www.mournewalking.co.uk