When:
July 19, 2014 – July 26, 2014
all-day
2014-07-19T00:00:00+01:00
2014-07-27T00:00:00+01:00
Contact:
Lauren Newell/ Pamela Houston
(028) 417 62525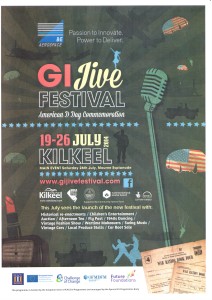 This July sees the Launch of the new festival – G. I. Jive
G. I. Jive will transport you back in time to the 1940s in Mourne when American Air Force men walked the streets under the rumble of World War Two aircraft such as Flying Fortresses and Marauders.
Don't miss out on this thrilling event at which you will witness historical re-enactments, walk around an authentic recreation of an American WWII camp and view their vehicles, tanks and weapons on Mourne Esplanade! Learn how to jive to authentic swing music, immerse yourself in 1940s glamour with makeovers & vintage fashion shows.
G. I. Jive promises a full programme of exciting events recreating the sights and sounds of the WWII American Airbase which was located at Cranfield in the run up to D-Day.
G. I. Jive is running as part of the annual Kingdom of Mourne Festival.
The main event will be held on 26th July at the Mourne Esplanade, Kilkeel.
For more information please visit: www.gijivefestival.com