When:
September 12, 2015 – September 13, 2015
all-day
2015-09-12T00:00:00+01:00
2015-09-14T00:00:00+01:00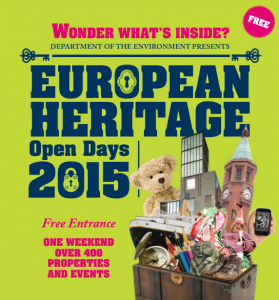 Over the weekend there will be 400 properties and events throughout Northern Ireland that are free to enter. Local events are shown below.
Hanna's Close – On Saturday 12th September 2015 the Mourne Mountain Country Cottages at Hanna's Close will be open from 2pm-5pm and the entrance will be free. Hanna's Close consists of eight cottages dating back to the 1600s. These cottages have been restored and maintained as a Clachan and are now three-star self-catering cottages. This is a rare opportunity to visit Hanna's Close. Most of the cottages have granite open fire places and granite floors. Members of the Hanna family will give talks on the history of the Clachan. Local crafts will be on display. 'Industrial Heritage' is the 2015 EHOD theme; there will be an exhibition about the local flax mills on the Kilkeel River and also information and displays by a local stone-yard on the impact of the granite industry in the Mournes. Contact Mrs Lily Annett by phone on (028) 4176 5999 or by email at info@hannasclose.com. You could also visit their website: www.hannasclose.com
Annalong Cornmill – On Saturday 12th and Sunday 13th September 2015 the Annalong Cornmill will be open to the public for free from 2pm-5pm, no booking necessary. Free guided tours of the newly renovated Annalong Cornmill. Annalong Cormill is situated by pretty Annalong Harbour, near the foothills of the Mourne Mountains, this once busy cornmill was in operation from the early 1800's to the 1960's. For generations local farmers brought sacks of oats to Annalong to be milled into oatmeal. Watch and listen to the water wheel in action.
Greencastle Castle – On Saturday 12th and Sunday 13th September 2015 Greencastle Castle will be open to the public from 12pm-5pm with tours at 12noon and 2pm on both days. It is a Royal Castle built around 1250 and prominently situated on a rocky outcrop close to Greencastle Point. The guided walks will be taking in other scheduled monuments including a medieval church and a mound, both on private land. The route has some steep sections on grass/rough gravel paths. Weather appropriate clothing and comfortable footwear recommended. Booking is advised, call (028) 9054 3022
Ross Monument – On Saturday 12th and 13th September 2015 the Ross Monument will be open from 9am-5pm with tours at 2:30pm on both days, no booking necessary. This monument is an Egyptian obelisk erected in 1826 on a hill on the outskirts of Rostrevor to commemorate Sir Robert Ross's victory at Bladensburg during the American Second War of Independence of 1812-15.
For more information and for other open days please visit: www.discovernorthernireland.com/ehod